Brooke Medicine Eagle American Indian shaman woman in Hungary
On the day of Our Lady, the Great Goddess
We come together to celebrate Our Lady, the Great Goddess of Hungarians, the day of the Priestess of Our Lady the Great Goddess, and the resurgence and empowerment of Hungarians. Brooke Medicine Eagle, an internationally known and acclaimed shaman woman will join us on this special occasion. As a part of her sacral journey and mission, she will visit the power places of Hungary together with Nikoletta Pozsgai, the head of the School of the Golden Lady, working together on the sacral empowerment of Hungarians. Between 4-9 October, Brooke will be in Hungary giving private and group sessions, offering her knowledge to those who wish to deeply connect with their own power. The Golden Lady traditions and the mission of the Hungarian sacral woman will be represented by Nikoletta Pozsgai in this process. Their joint effort will help the empowerment and resurrection of the Carpathian Basin. The evening ceremonies will help heal the power of ancestors, the soul of the Maghari People as a collective consciousness, as well as the collective Hungarian patterns.
We welcome you all to this special and powerful event!
Be the force that starts the change!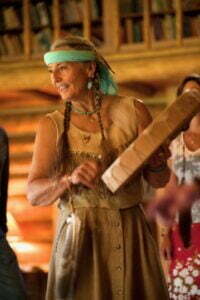 >>>5. OCTOBER 5. FRIDAY<<<<
6PM-9PM Dancing the Medicine Wheel:
The sacred heritage and healing teachings of the American Indian year and culture given to Hungarians – Brooke Medicine Eagle, shaman woman, teacher, healer
Teachings, meditation, ritual. Translation is available. We come together in a circle to learn and move around the great wheel of life. Brooke will share Native American prophecies, stories, and ways of living to enhance your life and the life of All Your Relations. We will drum together, and Brooke will assist you in naming and dedicating your drum.
 
>>>6 OCTOBER SATURDAY<<<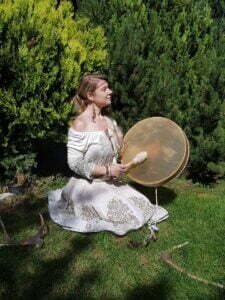 9AM-10:30AM Celebration of Our Lady the Great Merry Lady, opening speech, Nikoletta Pozsgai, Golden Lady, teacher, healer, trainer 
The Lady, the Goddess of Hungarians, the Goddess of the Carpathian Basin.
Teachings of sacred womanhood, Golden Lady traditions. The role of Hungarians and Hungarian women in the process of global awakening. The role of  Priestesses of the Great Goddess and the Golden Ladies.

---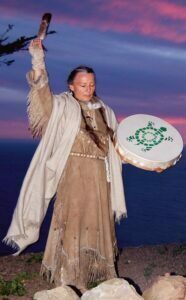 11AM-12PM Teachings about the process of global awakening, as well as the role and tasks of men and women – Brooke Medicine Eagle
"Amongst others, about the invitation given by Hopi Indians to women in 1997, at the Meeting of Indian tribes to lead the Earth in the next millennium."
1AM-5:30PM Workshop, meditation, ritual with Brooke Medicine Eagle
WALKING THE PATH OF HEART & HOLINESS (WHOLENESS), Native American ways of healing and empowerment. 
We are in a time of planetary and personal challenge, to which we must respond NOW. Brooke will share with you native and ancient ways of creating wholeness and power in your own life, as well as for those around you and this beautiful Earth.
 Saturday will be for men and women:
– Native American prophecies and the new cycles of the present
– Dawn Star – Walking the Path with Heart – to give you a most powerful tool
– ancestor clearing and connection for helping you be your best self
– resourcefulness & healing from trauma – the magic of the body & ancient brain
EVENING:
7PM-10PM RPIMAL FORCE – Ritual for female empowerment, and the recovery of male power. – Held by Brooke Medicine Eagle, Nikoletta Pozsgai and the Womb Sisters
---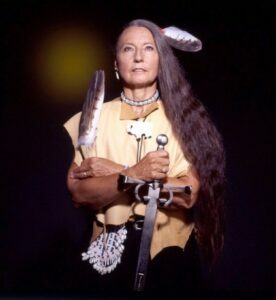 >>>7 OCTOBER SUNDAY<<<
10AM-5PM Women Only Workshop, meditation, shaman journey, ritual with Brooke Medicine Eagle
Sunday will be for women only to explore their own kinds of magic and healing to empower them in this time of great demands upon them:
– the Arising Feminine time and our place in it
– the Great Mother of All Life whose creativity we carry within us
– White Buffalo Woman's teachings of holiness – wholeness and Oneness with all Life
– Moon-time mystery teachings for healing and service
– support from the ancient brain and hormones
– clearing our ancestral fears of stepping into our power.
 
INFORMATION ABOUT THE SATURDAY AND SUNDAY WORKSHOPS
Brooke has much wisdom to share, and will spend time giving you as much useful and uplifting information as she can in this short time. Through processes, meditations, interactive sharing and work, and shamanic journey, she will help you integrate this. You will dance in circle and create a final ceremony of intention and dedication.
Bring your drums and rattles. It's wonderful for women to wear a skirt or wrap a shawl around them for their day and ceremony.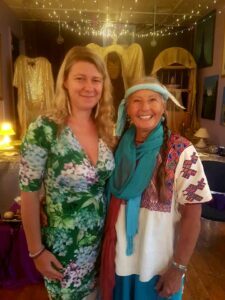 >>>8 OCTOBER MONDAY<<<
10AM-5PM Sacral excursion with Brooke and Nikoletta Pozsgai, then drumming around a fire in Dobogókő between 5PM and PM.
Rituals for healing and empowerment on the day of Our Lady the Great Goddess, in a sacred space, connecting to nature and Mother Earth.

---
How much does each event cost?
---
GROUP PROGRAMS, when paid by bank transfer in advance:
5 October: Dancing the Medicine Wheel – (6PM-9PM) HUF 10 000
6 October: Celebration of Our Lady the Great Goddess, 2 lectures (Nikoletta Pozsgai and Brooke) + workshop with Brooke + evening ritual, open to men and women. All day participation: HUF 25 000Ft (9AM-20PM)
6 October: Only daytime participation: 2 lectures + workshop with Brooke HUF 20 000 (9AM-5PM)
6 October: Primal force evening ritual (Brooke Medicine Eagle, Nikoletta Pozsgai and the Womb Sisters 6:30PM-9PM HUF 10 000
7 October: Women's workshop with Brooke HUF 25 000 (10AM-5PM)
8 October: Sacred excurtion to Pilis, all day: HUF 20 000 (10AM-4PM) Presentation of and connection with Tündérvár (Castle of the Fairies) and Kárpát Bölcső (Carpathian Cradle), led by Nikoletta Pozsgai, with a ritual led by Brooke and Nikoletta. Group discussion 5PM-7PM, drum circle with Brooke, on the day of Our Lady the Great Goddess at Dobogókő) 
'I want it all' package:special price for participation in all group events (Friday evening + three all day events): HUF 70 000 instead of HUF 80 000
Cash payment is possible on the spot, though it is considerably higher than advance bank transfer. Please wire your transfer until 1 October so that you can have the best prices.
From 2 October and on the spot the costs of the event are as follows:
5 October, evening HUF 15 000
6 October, all day: HUF 30 000
6 October, daytime events: HUF 25 000
6 October, evening ritual: HUF 15 000
7 October, Brooke women's workshop: HUF 30 000
8 October, sacral execution: HUF 25 000
If you wish to participate in all the events and you choose to pay by bank transfer, then you only need to pay HUF 70 000 instead of HUF 140 000.
Private consultations:
On 4, 5 and 9 October, Brooke will give private consultations and healings in  Grál Ház (House of the Grail)
Please register in the below form.
Private sessions cost HUF 25 000 / hour. Translation is available for additional fee.
Fees contribute to Brooke's honorarium, the costs and expenses of her Hungarian visit as well as the venues and event organization. All this add up even though she lowered her regular prices for her Hungarian visit. Volunteers also contribute to the events, who receive discounts, and in certain cases free of charge participation.
***
WE WELCOME BOTH MEN AND WOMEN TO ALL EVENTS EXCEPT FOR THE SUNDAY WORKSHOP, WHICH IS WOMEN ONLY.
---
Where will the event take place?
---
Grál Ház (House of the Grail), Budapest, and 1001 Éjszaka táncstúdió (1001 Night Belly Dance Studio), 1072 Erzsébet krt. 58. 1st floor
The Monday outdoor event will be in the Pilis mountains. Further details after registration.
---
How can I REGISTER?
---
Please fill in the below form to register for private sessions, workshops, rituals, sacred excursions: